5 Best Noiseless Ceiling Fans for A Bedroom
There are many methods to soundproof a bedroom from outside noise but to truly make it a cozy place for relaxation, a ceiling fan is necessary. That said, finding the perfect ceiling fan for your bedroom might be a daunting task due to the loud sounds they often produce. In this article, we'll guide you through the 5 best ceiling fans for a bedroom. So, let's start!
What Is The Best Noiseless Ceiling Fans For A Bedroom? The most popular and quietest ceiling fan for a bedroom is the Sofucor 52″ (1.32 m) model. This particular fan is designed with 52-inch wooden blades that ensure efficient airflow with minimal sound. Additionally, the rubber mounting of the blades effectively reduces any annoying humming or buzzing sounds.
As ceiling fans are increasingly used in bedrooms, it is very important that they do not produce noise so that you can sleep in peace and quiet. Today, you can choose from many models on the market, but not all of them are the same, and you should know what to pay attention to when choosing them.
In the rest of the text, we will go through all the important factors when choosing noiseless ceiling fans. So, let's start!
Why are Some Ceiling Fans Quieter Than Others?
Ceiling fans typically produce between 60 and 70 dB of noise. If we compare that to a regular conversation, it is around 60 dB, or using a washing machine, that is around 70 dB. We have different noise tolerance levels, especially when trying to sleep.
| Noise Level | Source of Noise |
| --- | --- |
| 30 to 40 dB | Quiet ceiling fans |
| 60 dB | Usuall conversation |
| 70 to 80 dB | Washing Machine |
That said, just imagine trying to rest with a washing machine running beside you – for many, it's simply too loud for a peaceful night's sleep.
Here are some things that are important when choosing a ceiling fan:
Type Of The Motor
There are two types of motors that ceiling fans use: AC and DC. AC stands for alternating current, while DC stands for direct current. Simply put, in a DC motor, the electrical charge flows consistently in one direction. When we talk about AC motors, the current goes in both ways.
Warped Blades
As every ceiling fan have blades, it is necessary to know that blades can also be the cause of the noise created by their rotation. So if you notice that you have a bent blade, you have a problem. You can easily notice a bent blade on a fan.
Balance
As ceiling fans are often used, they begin to lose their balance after some time due to their rotational energy. This can be a significant factor that contributes to loud noise. Regular fan maintenance should include efforts to re-stabilize it, which can be accomplished easily with a balance kit that can be purchased online.
Mounting Type
Each ceiling has 4 types of mounts: standard, flush, extended, and sloped. The standard mount is the most popular one, and it is used in most rooms.
Extended mounts allow the ceiling fan to hang appropriately in rooms with high ceilings, while flush mounts keep it right next to the ceiling. A sloped mount is used in rooms with slanted ceilings, often paired with an extended downrod for better air movement.
Related Article: 5 Quietest Attic Fan For Home Ventilation
5 Best Noiseless Ceiling Fans For A Bedroom
Now that we have gone through the introductory part and clarified what is important when choosing a ceiling fan, we can now look for the best models. Selecting a super silent ceiling fan for a bedroom may not be as tricky as you imagine.
While reducing noise is a key factor, there are also other things that are important, particularly for bedroom usage. Here are top 5 favorite choices for the most suitable noiseless bedroom ceiling fans.
1. SMAAIR 52" Ceiling Fan with Light
> Buy SMAAIR 52" Ceiling Fan HERE <
This 52-inch smart ceiling fan is designed to keep your bedroom comfortable, bright, and stylish. It's unique modern design is ideal for spacious bedrooms. The fan, with its sleek black finish, employs elegant plywood blades and a glass shade, along with an incorporated 4000K LED light that emits a cool glow.
It has a remote control and supports Wi-Fi apps, Siri Shortcut, and voice control technology. Thus, it can work seamlessly with Alexa and Google Home Assistant, letting you customize your fan settings easily.
This model is worth considering for those willing to invest more in a ceiling fan for the bedroom. Although the price is slightly higher than most models, it is worth every cent.
This ceiling fan has a DC motor with 10 speeds, which ensures nearly silent operation. While no specific dB rating is provided, customer reviews have confirmed that it is very quiet while working.
It has an airflow efficiency of 155 CFM per watt, which falls within the range for the Energy Star certificate. Therefore, operating it could be as low as $5 per year.
Pros:
Quiet During Operation
Comes With 10 speed DC Motor
Energy Star Rating
Cons:
Price
Problems With Setting Up Voice Control


2. Sofucor 52″ Ceiling Fan (Best Choice)
> Buy Sofucor 52″ Ceiling Fan HERE <
The Sofucor 52-inch ceiling fan is one of the unique models because it comes with wooden blades, resulting in quieter rotations. In contrast, metal blades, being less smooth, would produce more noise.
This fan's 52-inch (1.32 m) diameter blades ensure a large air volume can be circulated simultaneously. Consequently, this promotes a cooler room environment for a more comfortable sleep by helping reduce body temperature.
The Low Profile Ceiling Fan measures 52 inches in diameter and is 10.24 inches high, measured from the ceiling to the bottom of the fan housing. It weighs 14.7lbs (6.6 kg). For further details, please refer to the product manual found under "Product guides and documents".
In terms of energy use, this ceiling fan's integrated LED light consumes 15W and emits a warm white light with a color temperature of 3000K. The fan is powered by a silicon steel DC reversible motor that provides strong airflow, quiet operation, energy efficiency, and longevity. It also has ETL certification.
The fan features three outdoor-approved dark walnut blades spanning 60 inches and set at a 13-degree blade pitch. It has a six-speed handheld remote control and a three-level timer for convenience.
Pros:
It is very quiet during the operation
Comes with a good airflow
User-friendly device
Cons:
The bright white light may be bothersome for some users
Not the best choice for smaller bedroom spaces
It comes with a higher price tag
3. Wisful Farmhouse Ceiling Fan
> Buy Wisful Farmhouse Ceiling Fan HERE <
The Wisful Farmhouse Ceiling fan has a robust wood design and an impressive style, serving both functional and decorative purposes, making them a great addition to any home. They add an air of elegance and refinement to your house or outdoor area. This model has 56" (1.4 m) blades, which is ideal for a bedroom.
The Wisful Farmhouse ceiling fan is ideal for any area needing additional light. With its three-color temperature modifications, it creates a cozy atmosphere. Whether it's your living room, bedroom, or porch, this fan can enhance the mood for all kinds of events.
This 56-inch ceiling fan with light takes convenience to a new level. No need to fuss over light settings every time. It recalls your last settings and automatically reverts to them when you switch it on next time.
Pros:
Promotes optimal air circulation
Works well for both low and high ceilings
The installation process is simple
Comes with a remote control
Can easily adjust the temperature
Operates silently
Cons:
High Price
Not ideal for compact bedrooms
4. Westinghouse Lighting Ceiling Fan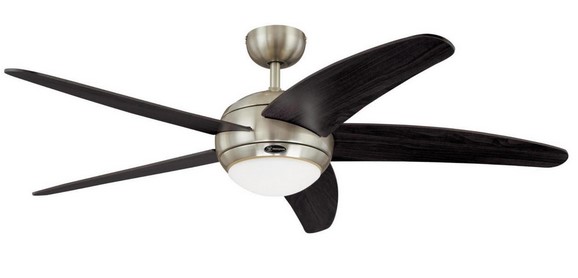 > Buy Westinghouse Lighting Ceiling Fan HERE <
Westinghouse Ceiling Fans are impressively efficient and well builed. Their brushed nickel plates are resistant to rust, ensuring the fan maintains its fresh appearance for a lengthy period. The robustly built blades can circulate a large volume of air, making them suitable for spacious rooms.
This ceiling fan is very quiet during its operation. It's virtually silent regardless of the speed setting, particularly in rooms with high ceilings. For rooms that have lower ceilings, any slight sound it may produce is hardly noticeable and won't disturb anyone.
It's worth noting that you should familiarize yourself with adjusting the fan direction at its base, which can be good if you want to draw the smoke upwards if needed.
Related Article: How To Quiet A Noisy Air Conditioner? 9 Easy Ways
Westinghouse Ceiling Fans represent one of the best cost-effective options that you have in the market. You receive Westinghouse's unparalleled 15-year limited motor warranty plus a 2-year warranty on all other components. Coupled with complimentary shipping, this fan is undoubtedly a smart choice.
Pros:
Blades made of brushed nickel steel A
Ability to circulate up to 5370 cubic feet of air per minute
It comes with a five-speed wall control
Cons:
Limited airflow capacity
Not ideal for spacious rooms
5. Portage Bay Hugger Ceiling Fan
> Buy Portage Bay Hugger Ceiling Fan HERE <
The Portage Bay ceiling fan, known as a hugger fan due to its close proximity to the ceiling, fits various budgets and aesthetic preferences.
With its compact design extending less than a foot into the room, it's an ideal choice for areas with low ceilings. Thanks to the dual-finished blades, you can tailor its look to your taste, and the versatile, dimmable light fixture complements many interior design styles.
One drawback is that it does not come with a remote control, and unfortunately, it cannot be adapted to get one. This might be a significant drawback if you're planning to install the fan in a bedroom. However, given its compact size and excellent value, we don't consider the lack of remote control to be a complete deal breaker.
Pros:
Budget-friendly
It comes with reversible blades
Good for low ceilings
Cons:
Doesn't have remote control
Not completely silent
Ceiling Fan Buyer's Guide
Although there are a lot of ceiling fans on the market, it is essential to choose the one that is suitable for your bedroom. Therefore, below we will write what you need to pay attention to when choosing a quiet ceiling fan:
Size of the room: The fan you pick needs to match the size of your room. A smaller ceiling fan suits a small room, while the big one is for large rooms. The length of its blades determines how big the fan is.
Air circulation: The fan's CFM (Cubic Feet per Minute) determines the amount and speed of the air movement. A high CFM equates to more airflow but could generate more noise. Fans operating at slower speeds have lower CFM and are quieter.
Height of the ceiling: The height of your ceiling can influence the area in your bedroom. A fan too close might make the airflow uncomfortable, while a fan too far might not be felt. Therefore, consider a snug or flush-mounted design if you have a lower ceiling.
Fan Material: Most fans are usually made of wood or metal. Wooden ceiling fan models are quieter due to their softness but can be pricier than normal ones.
Final Thoughts
I trust this guide has provided useful insights in your search for the most silent ceiling fan for your bedroom. My top pick for a bedroom ceiling fan is the Sofucor 52" Ceiling Fan. It's as quiet as they come, highly functional, and adds a touch of elegance to any room.
However, the Westinghouse 42" Ceiling Fan could be a suitable choice if you're working within a tighter budget. Although its CFM of 2900 may not be ideal for larger spaces, it's undeniably a silent solution for a bedroom. Should these suggestions not fit your particular needs, I'm hopeful the detailed guide can assist you in honing your selection.