5 Quietest Attic Fan For Home Ventilation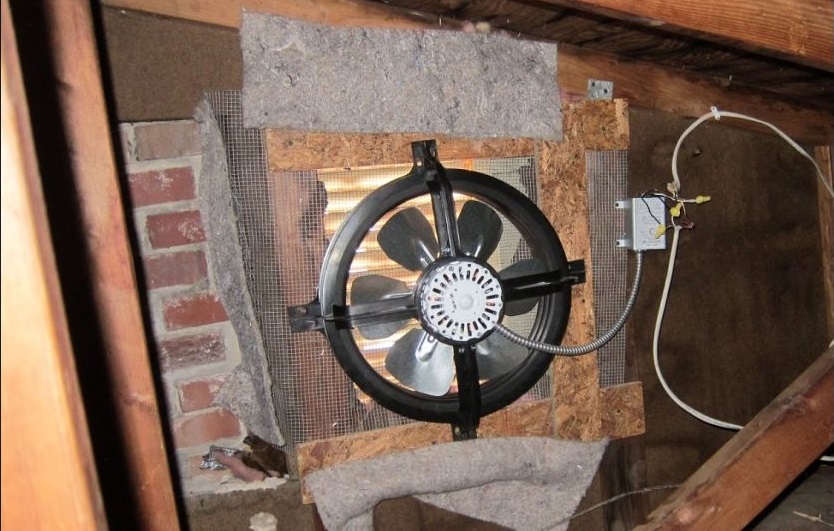 Attics that don't have proper cooling can reach temperatures as high as 140 ° F (around 60°C), which can cause damage to attic items and, what is even more important, to the very roof of your home. To avoid these issues, you should invest in a good ventilation system for a home attic.
An attic fan is an excellent choice that can help regulate the temperatures in the attic. It works by pulling hot air from your attic and pushing it out to provide ventilation. However, some models of fans can be noisy, which can be frustrating for homeowners. Therefore, it is very important to choose a very quiet model to get the benefits of proper attic ventilation without sacrificing your comfort.
Things To Consider When Buying An Quiet Attic Fan
If you're considering buying a quiet attic fan, choosing an effective and efficient one is very important. A good attic fan can help regulate the temperature of your attic, preventing damage to your roof and stored items. However, several factors must be considered when selecting an attic fan to ensure you get the right one for your home.
Air Volume Of Attic Space
One parameter that should be considered when choosing an attic fan is (CFM) cubic feet per minute. A higher CFM means a more powerful fan that can draw more air out of the attic. However, it's very important to match the fan's CFM with the attic space's size. Getting a fan with too high CFM can lead to increased energy costs. Therefore, consider the attic's size before selecting the fan model with the appropriate CFM.
Air Flow Inside Attic
Proper attic air flow is essential to ensure an attic fan functions optimally. Before installing an attic fan, check your attic to see if it is well-sealed from the rest of the house below. Check windows and doors, and look for any gaps that might expose your home. If the attic is not properly sealed, be sure to seek a professional help and seal it before installing the fan. A properly sealed attic allows the fan to work effectively and prevents additional heating or cooling costs.
Attic Fan Noise Level
When shopping for an attic fan, consider its noise level and ease of use. Most attic fans make a lot of noise, which can be irritating. Choosing a fan that operates quietly is best to avoid disturbances. Additionally, select a fan that's easy to use and can run automatically without requiring manual operation. A fan that will not require any maintenance is the most convenient option.
Type of Material
Choosing the right material for your attic fan is very important if you want to ensure that it can withstand the harsh environment. You should use high-quality and durable materials that can last for a long time. While plastic fans are resistant to moisture, they may not be suitable for very high temperatures. For this reason, it's advisable to choose painted fans that can last in all conditions for a very long time.
Related Article: How To Quiet A Noisy Attic Fan? 7 Easy Ways
Types Of Attic Fans
Ventilation systems for your attic can be broadly categorized into 3 types as follows:
Electric and Solar Attic Fans
Non-Mechanical Attic Ventilation
Complete Fan Systems
Electric And Solar Attic Fans: These are two most popular types of attic ventilation systems. Solar-powered attic fans dont require electricity to operate and can run even during a power outage. However, electric attic fans can provide more power, and they are cost-efficient. However, there is one downside: solar fans are more expensive but eco-friendly.
Non-Mechanical Attic Ventilation System: These fans, also known as gable vents, were typically found in homes built before the 1980s. These systems are quite effective in maintaining a cooler temperature in the topmost section of the attic. However, in locations with stagnant air, these units might lead to the formation of heat pockets.
Complete Fan Systems: These types of fans are typically placed at the peak of the ceiling and are designed to extract warm and humid air from the living space into your attic. It's crucial for the attic to have sufficient ventilation to allow this warm air to escape into the exterior. Without proper ventilation, the moist air that's pulled into the attic can foster the proliferation of mold.
Related Article: 5 Best Noiseless Ceiling Fans for A Bedroom
Best 5 Quietest Attic Fans
Attic fans play a crucial role in maintaining optimal temperature and air quality in your home, but noise can be a concern for some homeowners. In this list, we present the top 5 quietest attic fans available, ensuring you get the best performance without compromising on comfort and peace.
Table: Best 5 Quietest Attic Fans
1. QuietCool Solar Power 40W Attic Fan
Main Features:
Comes With A 15-year Warranty
It Runs Both On Solar And Electrical Energy
Housing Is Made Of Alloy Steel
Built-in Thermostat
> Buy QuietCool Solar Power 40W HERE <
The QuietCool 40W Solar Powered Attic Fan is an excellent option for those looking for a powerful and energy-efficient ventilation system.
This attic fan can run on both solar energy and electricity, allowing for maximum efficiency. Depending on your house's type, you can choose between the gable and roof mount models.
The QuietCool is made of alloy steel and is designed to withstand extreme temperatures. It has a DC motor which is extra quiet thanks to the steel housing that ensures long-lasting performance. Additionally, AC/DC converter that is installed is good for night operation, while during the day it uses solar energy.
2. Broan 356BK 1600 CFM
Main Features:
Powered by solar energy
Optimal for areas with a capacity of 1600 CFM
Equipped with a four-blade steel fan system
Comes with an insect screen
Operates at 900 watts
> Buy Broan 356BK 1600 CFM HERE <
The Broan 356BK1600 CFM Powered Attic Ventilator is a reliable option for homeowners seeking efficient attic ventilation. The unit features a sturdy PVC dome protecting against harmful UV rays and a 23-long gauge metal flashing, allowing easy installation. Its 14-inch steel blade ensures optimal airflow and can cool up to 2300 sq feet of attic space with its 1600 CFM capacity.
Moreover, the unit comes equipped with a built-in thermostat for automatic operation, making it easy to install. Only thing you need is to create a 14-3/8" diameter hole on top of the roof for optimal ventilation.
Lastly, the product comes with a warranty of 1 year. Overall, the Broan 356BK1600 CFM Powered Attic Ventilator is an excellent choice for anyone looking to improve their attic's airflow and temperature control.
3. Remington Solar Power 40W Attic Fan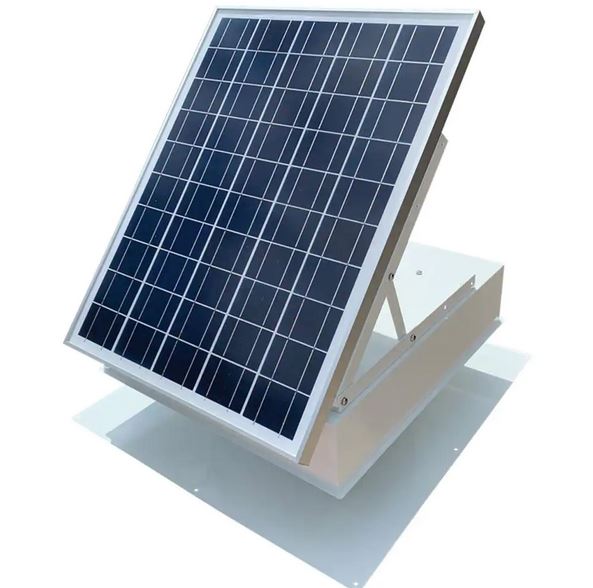 Main Features:
It comes with an extensive 15-year guarantee on the fan
It comes with a 2 year warranty.
Equipped with a brushless motor for enhanced durability
Powered by solar energy, making it eco-friendly
> Buy Remington Solar Power 40W HERE <
The Remington 40-Watt Solar Attic Fan is an eco-friendly solution that can maintain a comfortable temperature in the attic even without the use of electricity. With its solar-powered operation during the day and an adapter for night-time use, this fan is efficient and versatile. Its brushless motor ensures a long lifespan while also keeping it quiet during operation.
This model has a built-in thermostat and humidistat, which automatically adjust the airflow in your attic based on conditions, and it can ventilate a room up to 3200 square feet. Moreover, it ensures that it can withstand harsh weather conditions.
The manufacturer offers a warranty of 15 years. Overall, the Remington 40-Watt Solar Attic Fan is an excellent choice for anyone looking for an energy-efficient, low-maintenance way to regulate their attic's temperature.
4. ILiving ILG8SF12V Exhaust Fan
Main Features:
Features automated shutters
Designed for a variety of uses
Resistant to corrosion
Comes with adjustable speed settings
> Buy ILiving ILG8SF12V Exhaust Fan HERE <
The ILiving ILG8SF12V is not just designed for attic use, but it can also be applied in other areas in your home, such as the garage, bathroom, or even a kitchen, delivering superior ventilation wherever it's needed.
Its multifunctionality is complemented by a fully encased, corrosion-resistant motor that is thermally secured and doesn't need lubrication, guaranteeing longevity and operational efficiency.
This fan model has multiple speeds you can choose from, which requires the separately sold speed controller. To enhance durability, the fan is outfitted with a weather-resistant aluminum shutter that can endure extreme conditions like high temperatures, moisture, and even cold much longer than its counterparts. Moreover, the motor's movement is balanced to ensure whisper-quiet operation.
5. Cool Attic CX1500 Power Attic Ventilator
Main Features:
2.6A Motor capacity
Capability of 1300CFM
Built from galvanized steel
Features a thermally secured motor
Equipped with a flexible thermostat
> Buy Cool Attic CX1500 Power Attic Ventilator HERE <
This Cool Attic CX1500 model can withstand extreme weather conditions across seasons thanks to galvanized steel. This powerful 1300CFM machine is ideally suited for ventilating an attic space of up to 1850 sq feet.
Thanks to its specially designed mounting system, it features a thermally safeguarded motor and a 10A automatic thermostat, ensuring smooth and quiet operation by eliminating vibrations typically associated with attic fans.
The fan blades are perfectly balanced, which mitigates potential disturbances such as noise, vibrations, and heat-related deformation. For the fan to perform at its peak, it necessitates an intake vent area of roughly 600 square feet.
Related Article: Ceiling Fan Making Clicking Noise: 5 Ways To Fix It
FAQ: People Also Ask
How To Make An Attic Fan Quieter?
There are several ways to make your attic fan quieter. One practical approach is to position the attic fan on a cushioned base, which assists in curbing the transmission of vibrations. It's also important to ensure that the fan blades are evenly balanced and that the motor undergoes routine maintenance, which helps keep it in optimal condition for seamless functioning.
Can You Leave Attic Fan On During The Night?
No, leaving an attic fan during the night is not a good idea. Motor that runs non-stop for extended periods can result in premature failure or significantly reduce its operational lifespan. Also, as temperatures tend to drop during the night hours, the necessity for continuous ventilation decreases, negating the need to keep the fan on.
How Noisy Are Attic Fans?
Most attic fans often generate a lot of noise that can disrupt your peaceful living environment, even though they effectively manage your home's internal temperature. However, with improved technology, manufacturers have begun to produce quieter attic fans. These modern versions efficiently reduce the heat without the disturbing sounds usually associated with traditional fans.
Final Thoughts
Despite their crucial role, like any piece of equipment, attic fans have drawbacks. Most models make a loud sound, which can be disturbing, so choosing a model that will not produce so much noise is important.
After spending some time researching these devices, I found out that they have more advantages than I thought, and they don't only help in cooling the attic but also substantially prolong the roof's life by eliminating the hot, moist conditions that can wreak havoc on it.
These fans are an economical, one-time investment that certainly won't upset your budget. They cost about as much as a preferred smoothie mixer yet provide immense utility. Don't allow the summer heat to disrupt your comfort by saving money on an attic fan.