Should You Insulate Your Garage Ceiling? Explained
When planning to cool or heat your garage, it is important to have as much insulation as you can. We have already mentioned how important it is to insulate walls and doors in a garage. But should the ceiling be insulated as well? My recommendation is usually that all exterior walls should be insulated, but it should be noted that there are situations where it's absolutely critical to do this.
You don't need to think about garage roof insulation if there is a roof above the garage ceiling that prevents heat loss or living space that performs the same function. Therefore, you should ask yourself, is insulating garage ceilings the right thing for you? Below we will consider the benefits of insulation and how you can do this. Let's start!
Why Should you Insulate Your Garage Ceiling?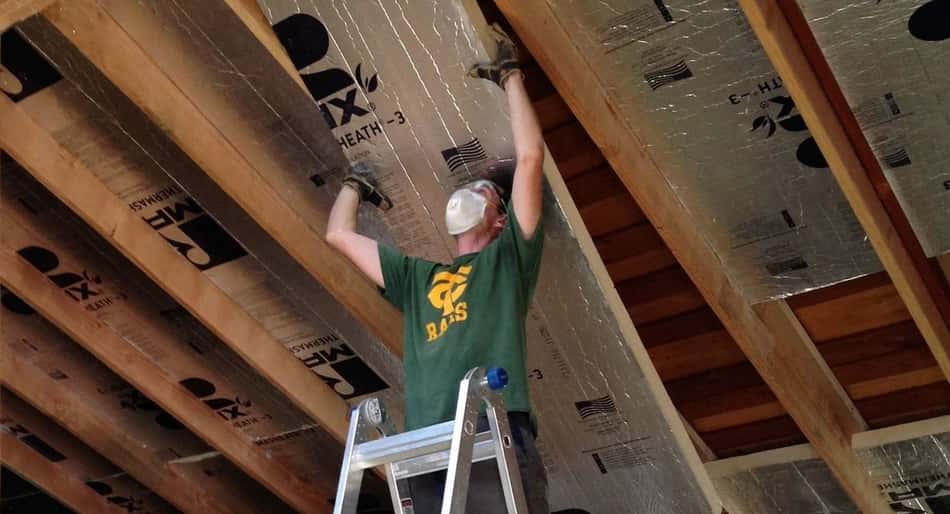 The garage ceiling should be insulated for 2 main reasons:
Ceiling should be insulated if you want heated or air conditioned garage. You will spend a lot more money on garage heating if the ceiling is not insulated. Your garage will be warm, but you will spend a lot more money for that effect. Which, of course, no one wants. That's a good reason to conclude that you can't say you're done with garage insulation without ceiling insulation.
When there is a living space above the garage, all the heat below will pass through the ceiling. On hot summer days, the heat from the uninsulated garage will go up to the room above the garage. That way, you'll spend more money on your air conditioning system to cool down the room. If the ceiling in your garage is well insulated, you will avoid such a situation.
Investing in the insulation of walls, ceilings, and doors in your garage will raise the market value of your property and, at the same time, ensure the longevity of your roof. Also, quality insulation helps a lot when reducing the noise that can potentially come from the garage.
Types of Material Used For Ceiling Insulation
Two types of insulation material are most often used for ceiling insulation. Fiberglass Batts or rolls and blown-in loose-fill insulation. Let's see each of them.
1. Fiberglass Batts or Rolls
Fiberglass batt or roll insulation is the most common type that is used for insulation. This type of insulation is made up of fiberglass fibers that are placed in big fluffy rolls. Rolls are one large piece of fiberglass that you can cut to the dimensions you need, while batts are a set of pre-cut fiberglass pieces.
When insulating ceilings, it is best to use R38 or R30 insulation material, noting that these markings indicate the strength of the insulation. The higher the number next to 'R' is, the stronger the insulation will be. You need to choose an insulating material whose 'R' mark corresponds to the load-bearing capacity of the supporting beams on the ceiling.
Batt or roll fiberglass insulation can be faced or bare. The insulating material faced on one side is lined with paper. Keep in mind that in some local communities the regulation stipulates that only faced insulation material must be used for insulation. Be sure to study local building regulations!
For those who have a drive-under garage, be sure to read The Pros And Cons Of A Drive Under Garage.
2. Blown-in Loose fill Fiberglass or Celulose
Blown-in insulation is a loose fiber or insulation material that is applied with the help of a blower by blowing into the openings in the ceiling beams on top of the final layer of the ceiling or drywall. This type of material is easy to install if it is a ceiling on which all the finishing work has been done.
Remember that sometimes it is difficult to place batts on the ceiling of a smaller area. The use of this material is recommended on ceilings where construction work is still in progress to ensure that the batts are placed on an adequate surface. 
This type of insulation material is made of cellulose or fiberglass. When we talk about cellulose insulation material, it is a product made of recycled paper, and when it comes to fiberglass loss fill, we are talking about a material similar to roll or batt insulation.
3. Spray Foam Insulation
Spray foam insulation can be used to patch holes in walls or ceilings as it is a material that spreads inside barriers. This spray is recommended when the insulation is placed on the ceiling on which all finishing work has been performed. It is often used in combination with other types of insulation material since it is the only one with such properties that it can effectively fill smaller holes and crevices. It is recommended to use closed-cell foam spray to avoid the material absorbing too much water, which leads to mold formation.
Tools and Materials For Garage Ceiling Insulation
Before you get down to business, you need to buy everything you need for this job. While this is a task that you can finish in just one day, it's always good to ask someone to help you with it. Here are the supplies that you'll need:
Insulation: This can include insulation batts, spray foam, injection foam, cellulose, or any other material you prefer. There are cons and pros to each. Be sure to do your own research before going for the cheapest option. Temperature, humidity, and packing influence the effectiveness of every material.
Standard tools: Depending on the type of ceiling in your garage you will need different tools for this task. In any case, you should expect to get some cordless drills, screwdrivers, and a hammer.
Scaffolding:  A safer option is to get a scaffolding. Keep in mind that you don't have to buy this if you don't have it. You can rent it from your local store.
Gloves, safety goggles and long-sleeve clothing: Irritation and itchiness are usual side effects in this type of work, no matter which material you use. Also, it is recommended to use a safety mask. It prevents fiberglass from going into your lungs!
Step-by-Step on How to Insulate a Garage Ceiling
Once you have all the things you need, it is time to get down to work. Here is a step-by-step guide on how to insulate your garage ceiling the right way:
Empty your garage: Insulation process is very messy. You do not want to get dirt and material debris on your valuables. Keep in mind that fiberglass can get stuck in weird spaces!
Find all electrical boxes: You must make sure to leave room for them to heat up without a fire hazard. Usually, it is not a problem to make space for all electrical parts and wiring.
Install the vapor barrier: Keep in mind that a vapor barrier is important just as much as insulation material. Before installing, be sure to check for mold on all the surface and remove it if you find any.
Insulation needs to be placed tight against rafters and walls: You can move batt insulation around if it does not fit. Note, be careful not to overdo with spray foam because you can make holes in the insulation by doing so. Very important is to avoid spaces or gaps between any insulation.
Lastly, be sure to replace your ceiling panels.
Common Mistakes When Insulating Garage Ceiling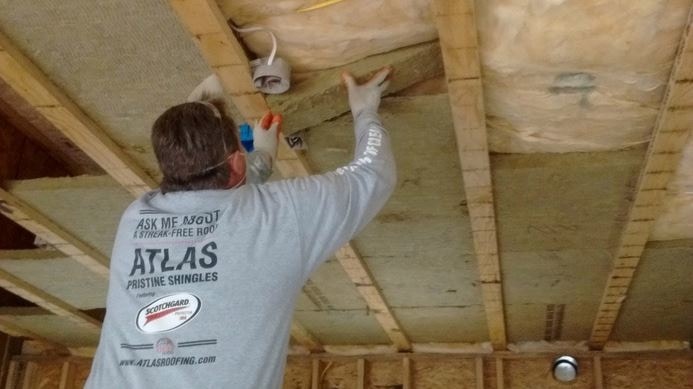 When doing garage ceiling insulation, you can run into some mistakes as with any other project. Here are the things you need to watch out for:
Avoid using too little insulation: Insulating is a job where it is not recommended to skip some parts. If you see gaps or overlapping after the work is done, that isn't good. Also, in the future, excessively thin insulation can cause big problems.
Mind the gap: For insulation to be fully functional, you need to leave a small breeze of air. If you pack fiberglass insulation to tightly together, it will lose its effectiveness. To block temperatures that are coming from the outside, batt insulation must have small gaps of air between the fiberglass.
Safety first!: Use recommended safety equipment. Fiberglass is very itchy, so you have to put on gloves and long sleeves. Also use safety glasses. They keep small particles from falling into your eyes.
Putting insulation over electrical box: Covering up an electrical box can lead to a fire hazard. Dont do it! It can cause serious issues!
Check if you need to use flame retardants: Some garages require to use flame retardants as an addition to the insulation. Always check local fire codes before you start working on your garage.
Vapor barrier must be used: Vapor barriers control moisture. Also, they are making it easier for insulation to control sound and temperature. The worst thing is finishing the project and then realizing that you have a problem.
Although these are simple mistakes, believe me, they do happen often. If you are not familiar with DIY projects, you can always hire a professional to do the work for you and be responsible if something goes wrong.
If you want to see how garage ceiling installation is done, watch this Youtube video.
Also, if you want to upgrade your home garage be sure to read Can You Put Solar Panels on a Garage Roof?
The Benefits of Insulating Your Garage Ceiling
Insulating a garage ceiling has many advantages, and it is not a project on which you need to spend too much money. Some of the benefits are:
Keep the heat out of the garage: A garage is usually the largest non-insulated room in your house. We have already mentioned how important it is to insulate a garage ceiling. 
Energy Savings: When you have a living space above the garage, the heat from your garage will go into the floor above during hot summer days. This means that your AC system will have to work harder and thus consume more power.
A good sound barrier: When you have good insulation in the garage, you will not have problems if someone is working in your garage, making music, or parking cars. You will hear almost nothing.
Increase the value of the property: When your home is well insulated, a potential buyer will definitely appreciate it, especially if you have noisy neighbors. Although the insulation project is not demanding, it is always a big plus if you can avoid it when moving into a new home.
Increases the life span of your garage roof: It is known that temperature changes can shrink and expand the drywall and wood in your home. By insulating, you will increase its life span.
I believe all of the above is enough to convince you to insulate your garage ceiling. I would further point out that a large number of homeowners report that garage ceiling insulation is one of the simpler projects they have embarked on.
FAQ: People Also Ask
Do Garage Ceilings Need to be Insulated?
Insulating a garage ceiling is not a necessary option, but many professionals recommend it. But if you want your garage to be warm and prevent heat from escaping through the ceiling, be sure to insulate it.
What's the Best Type of Insulation to use for the Garage Ceiling?
Fiberglass insulation is the most common choice when it comes to insulation. These are large batts or rolls of fiberglass that are placed between the beams and supporting pillars. Rolls are one large piece of fiberglass that you can cut to the dimensions you need, while batts are a set of pre-cut pieces of fiberglass.
Should You Insulate Above Your Garage?
When a person plans to spend full time in their garage, insulation is a good decision to ensure comfort, not just to reduce electricity bills. In such cases, the garage ceiling should be completely insulated, on both sides. Especially if the garage is planned to become a room with an active AC system.
Final Thoughts
We can conclude that it is definitely a good idea to insulate the ceiling in the garage. Before you decide to do this in your garage, we advise you to think carefully about your budget and consider what you can do with it. It would be best to keep in mind that insulation cannot heat your garage but only keep the heat in it. I hope that this article has helped you.