How to Dig Out a Basement in an Existing House?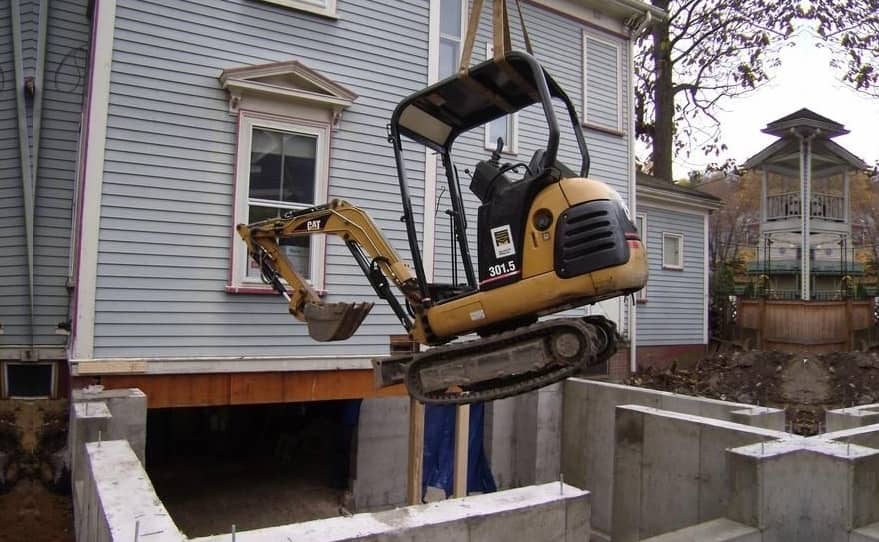 Nowadays, buying a new house due to a lack of space in your current home isn't an option unless you want to pay an additional $250 000. Therefore, you need to consider whether this option is worth it. Luckily, there is a much cheaper solution. For those who would like to add an additional room to your house without moving, digging out a basement might be the best option. In this article, we'll discuss how to dig out a basement under your existing house and why that is a smart decision.
So How to Dig Out a Basement in an Existing House? For a house that is set off to the side, then only the soil needs to be removed from the basement site. For elevated houses above the digging site, the excavator can dig a single entryway into the basement area. To remove the soil under the house, it is best to use a skid loader.
As we've already mentioned, buying a new house with an additional room can be extremely expensive, whereas digging out a basement, even with professional help, is much more cost-efficient. Basements are always a good option, even if your house does not lack space, since having a basement automatically makes your house more expensive when trying to sell it.
Still, you need to be careful when digging out a basement since there are many laws and regulations that may vary depending on the state where you live, which we will discuss in this article.
If you want to learn more about this topic, be sure to read Can You Build a Basement Under an Existing House. (this is an article that I also covered in a little more detail)
Law Regulations About Digging Out a Basement
First of all, it is important to choose the right company to do the job. Even though most of the companies in the business can be trusted to do a good job, you should opt for the one that best fits your needs when it comes to price, duration of the construction works, and layout.
Keep in mind that an architect is absolutely necessary when doing this type of work and if the soil under your house doesn't fit the standards and requirements, in other words, if it isn't able to support this type of structure, you will not be able to acquire a building code approval.
Provided that your basement is not larger than 70 cubic meters or 50 cubic meters when it comes to a house with a terrace, and also that the newly dug-out basement is the first extension to your house, you won't even need planning permission. The only two situations when this rule isn't valid are if you recently dug out light well in the close vicinity of your house or if your house was built in a conservation area. However, you are still required to adhere to the fire regulations.
When all the planning is done and you've agreed to the construction plans, you will most likely need to wait for 2-3 months since that is how much it takes your Local Authority to grant you a planning approval under section 63 of the Town and Country Planning General Development Act 1990.
Another 4 to 6 weeks are required once you receive the planning approval since the fire regulation and building plans need to be approved and assessed by structural engineers connected to your local authority. They will review your design and get back to you with, hopefully, an approval.
Furthermore, under Regulation 14 of the Building Regulations 1985, the Local Authority Building Control Department will receive a Statutory Notice of Commencement, after which the construction and building works can begin.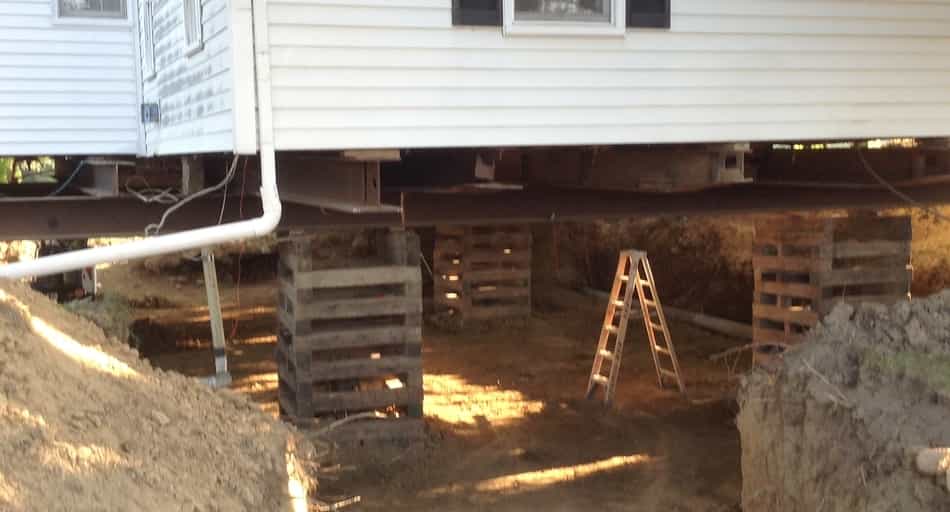 Before work starts, the company you've chosen will receive permits allowing it to use the highway and disposal containers:
Under the New Roads and Street Works Act 1991 – permit to use containers to dispose of construction waste and material
Under the Local Authority Highways Section – permit to utilize highway storage infrastructure
A basement will definitely come in handy, even if you aren't in a need of extra space. As we've already mentioned, a basement raises the value of your house, if done correctly, since an interested buyer will most likely ask for building or conversion permits. To be sure that everything is being done correctly, we've laid out the 10 construction phases below.
Digging Out a Basement in an Existing House
Here is the full process of how to dig a basement in an existing house. It will take you around 25 weeks to finish your basement.
Week 1:
First of all, you should choose an area in front of your house where you will dig out a temporary access point to your basement.
Dig out the temporary access point and make sure that:
– It is safe to use and not affected by external weather conditions
– There are sufficient external lavatories
– Footings are installed in all the places where they are needed
– Temporary electricity supply to the basement
Week 2-6:
Dig out the underground area, clean out the excess dirt, reach the existing foundations, and put-up support to stop the collapse.
Week 7-10:
Dig out the remainder of your basement once you've shored up everything correctly.
Week 11-13:
You will soon receive structural steel bearing spreader plates, so before that, you should get rid of the existing masonry.
The steel bearing spreader plates serve as additional support for the steel beams and before installing you should make sure that the measurements of the plates are 100 x 600 x 20 mm.
Steel beams must be coated with an intumescent coating which enables the beams to endure fire damage for a minimum of 30 minutes. The beams mentioned should be high-strength steel beams and universal beams.
Week 14:
You should choose your floor slabs according to the type of soil under them and build a reinforced concrete wall.
Week 15-16:
When it comes to basements, a drainage waterproofing system including 2 submersible pumps featuring a backup alarm are definitely a must. Furthermore, whichever floor slabs you decide on, you should apply a layer of screed over them to form a membrane.
Week 17-19:
Building a light well is optimal and necessary on two ends of your property.
The light well is required to have a drainage system, metal railings, and windows. Optimally, it should be 2 x 1 x 1.8 M deep.
Another requirement is a cat ladder which needs to be installed to enable another escape route.
Week 20-22:
Insulation is a must due to the moisture and heat regulation in the basement, and the insulative material should be placed between the dry lining surrounding the external walls and the walls themselves.
The interior walls should also be dry-lined and filled with insulative material.
Time to build a new ceiling! Use gypsum plasterboard and place the plaster finish on the visible side to enable fire resistance. You should once again use insulative material, but this time place it between the floor of your house and the plasterboard.
For the plasterboard use a 12.5 mm board with a plaster finish.
Next up are plumbing and electrical work.
Week 23-24:
Finally, choose a ladder that will lead into your basement. The optimal choice is an enclosed rung, softwood rope ladder.
Make sure that all the work is completed such as installing skirting boards and architraves. Electrical and plumbing work should be finished too!
Week 25:
To be able to finally use your new room, contact the Building Control Department and arrange a final inspection.
How Much Does It Cost To Dig Out a Basement?
Depending on the size of the basement, the average price is between $3,000 to $9,000. The only issue when it comes to digging out a basement is that it may not count into the inhabitable square footage of your house, which, in turn, won't cause the value of your home to go up. The best option would be a walkout basement, but this is only possible if you live on the hill.
If you already have a basement and you have a hole there, then read Why Is There a Hole In My Basement Floor?
The Cost Of Full Basement
Keep in mind that some of the previously mentioned time spans for certain work may not be 100% exact, since some work may take less or more time, depending on the task.
When it comes to building a basement, there are three possible options:
Bretro Fit: The priciest option since it includes the digging out and full construction of a basement for a house that do not have one. The price is around $4000 + VAT per m2.
Basement Conversion:  A cheaper option that includes the expansion of an existing basement. Price is around $3676,50 + VAT per m2.
Basement Renovation: The cheapest option including just waterproofing and conversion into a living area. The price for this option is around $1942,30 + VAT per m2.
Other available options (besides digging out a new basement): Depending on how you wish to use your newly dug-out basement, other options may prove more useful and less expensive. For example, if you need extra living space, building a new floor is also an option or if you need more storage room, maybe building a shed in your backyard could be a bit more efficient.
FAQ: People Also Ask
What Is The Cost Of digging out a basement under an existing house?
This depends on whether you have at least a partial basement or no basement at all. Depending on this and a few other factors, your basement construction could cost you anywhere from $20,000 up to $150,000.
Is it worth digging out a basement?
As we've mentioned, it depends on the final purpose of the basement. It's always useful to have another floor in your house, but it might prove to be too costly of an endeavor since it includes a lot of work, even a structural one to support the building. In the end, it's up to you, but having a basement is never a bad option.
Is it possible to add a basement to a house that doesn't have one?
Yes, it's possible! No matter the goal and the use of the basement, be it purely for storage, added value to your house, or as living quarters, a basement is a great option. And if you don't have one now, you could certainly build one in the near future.
Final Thoughts
As with all other projects of this scale, be careful when building a basement. You need to have professional help, and you also need a good amount of money for this because starting and leaving it unfinished may prove to be even more problematic than not having a basement at all. To conclude, a basement is a great option and could help you raise the price of your house, add new rooms or storage facilities, or even just have a calm place to ease your mind.