How Much Does It Cost To Rough-In Plumbing For A Bathroom?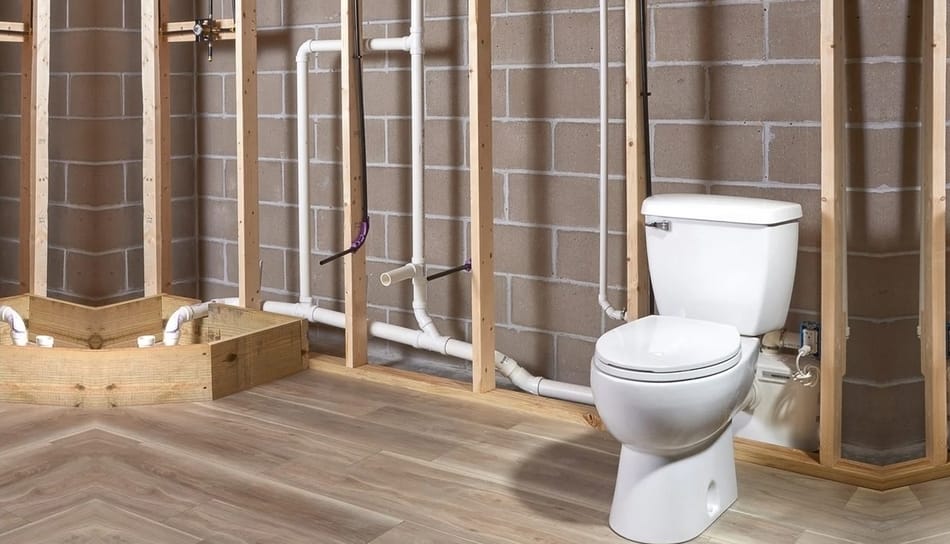 Plumbing rough-ins take a lot of time, and they are also not a cheap option. The cost you can expect for rough-in plumbing depends on the type of fixture and the complexity of the work that needs to be performed. Below we bring you an overview of the average cost of rough-in plumbing for sinks, faucets, toilets, and other bathroom fixtures.
Rough-in plumbing is a big challenge, especially for those who have more than one bathroom in your home. Also, it is a project that is crucial if you want to renovate an existing bathroom. But you should know that it is always a worthwhile investment if the job is done properly.
So How Much Does It Cost To Rough-In Plumbing For A Bathroom? The average cost for rough-in plumbing for one bathroom is around $7,000. However, homeowners usually spend $250 per rough-in faucet, $1,900 for a rough-in toilet, and $2,900 for each sink. The additional cost is $335 for relocating plumbing fixtures and $3.80 for plumbing pipes per square foot.
The total cost of rough-in plumbing in the bathroom is influenced by several factors, among them are the quality and the amount of money you will spend on buying fixtures. In this article, we'll explain all the costs that await you in this project.
If you want to know more about bathrooms, be sure to read Are Humidity Sensing Bathroom Fans Worth It?
The Range of Bathroom Plumbing Costs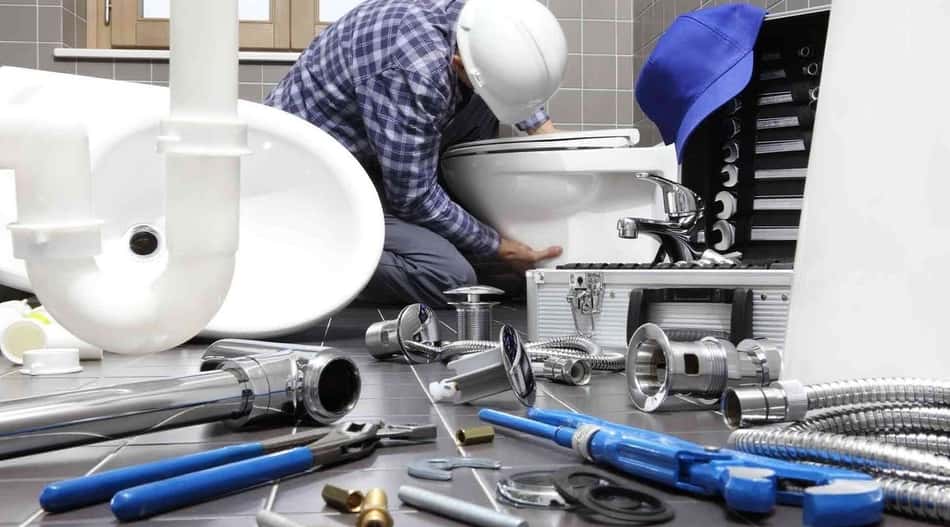 As with any other home improvement project, there is a range of possible costs, from the lowest to the highest. When arranging a small guest bathroom on the house's ground floor, that cost can only be $750. But if you want to remodel a large bathroom next to your bedroom and use only the best available materials for the job, the cost can be as high as $20,000.
If you're looking to purchase a new TOILET, be sure to check this model on AMAZON.
Bathroom Plumbing Rough-In Cost
| | |
| --- | --- |
| Average Cost | $6,500 |
| Average Range | $2,200 – $11,000 |
| Minimum Cost | $800 |
| Maximum Cost | $22,000 |
Table: Plumbing rough-in bathroom cost
Note! We advise you to talk in detail about the project scope and costs with the contractor before the works start. This way, you will avoid all misunderstandings related to costs.
What is Rough-In Plumbing?
The term rough-in plumbing means that your house already has pipe connections and frames and prepared drain and water supply pipes in the form of holes that are rough with built-in studs. However, one thing that needs to be done is to install the fixtures. This is reason enough to take very good care when it comes to quality of work.
Rough-In Plumbing by Fixture Types
As already mentioned, the cost of work is largely determined by the type and quality of fixtures you want to install. Some of the fixtures that must be installed are the following:
Bathtub
Faucet
Toilet
Sink
Shower
Bidet
Below, we'll provide you with an overview of the fixture's cost. Note, that we have highlighted here only the basic fixtures. If you have a bigger budget and a spacious bathroom, get creative. You can install a dryer, washer, or both!
Plumbing Cost by Fixtures
| Fixture Type | Lowest Price | Highest Price |
| --- | --- | --- |
| Faucet | $250 | $525 |
| Sink | $320 | $5,200 |
| Toilet | $370 | $3,680 |
| Bathtub | $550 | $2,930 |
| Bidet | $1,600 | $3,100 |
| Shower | $1,650 | $3,800 |
If you are a DIY person, there is a possibility to install some of the fixtures yourself and thus save money. But it largely depends on the type of fixture you choose. If you do not have the necessary knowledge to install fixtures yourself, look for a professional plumber for the job locally and try to negotiate the price. There is always the possibility that the contractor will lower the work cost if it is a larger deal.
Faucet Installation Cost
Most plumbers usually ask the owner to buy faucets from them. The price of faucets usually ranges between $50 and $250. When it comes to paying a contractor, he charges for his labor either by the hour or a single amount for the whole job.
Cost to Install a Sink
Things that you can buy are the following; hanging sinks, vanity sinks, pedestal sinks, and consoles. Materials and brands are important things that are affecting total installation costs. Vanities that have drop-in sinks are the best value-for-the-money option.
Installation Cost of a Toilet
The design, model, and make of the toilet is directly affecting the whole cost. Here are a couple of options that you can get:
One or two-piece toilets
Water-saving toilets
Self-cleaning toilets
The installation process is different for each of these toilets, and some models can be installed in several ways.
Bathtub Installation Cost
The cost of installing a bathtub varies greatly on how you want it to be installed. Recently, it has become popular among homeowners to place bathtubs inside a pre-designed niche in which a shower is also installed.
Bidet Installation Cost
The popularity of bidets is growing from year to year due to their practicality in everyday life. This bathroom fixture can be obtained as a model that needs mounting up the wall and as a stand-alone model. Note, that the different models have different configurations of the faucet.
Shower Installation Cost
When installing a shower, regardless of the model, it is important to focus on three areas: drain, valve, and showerhead. Other work depends on the model and makes of the shower.
> Check this Swiss Madison Toilet Model <
What Is The Plumbing Cost For Moving Bathrooms?
When homeowners decide to redecorate a bathroom, they often also decide to change the bathroom's layout. Changes are always good, they allow you to improve the interior design of your home and make everyday life more comfortable and efficient.
When embarking on changing the layout of the fixtures, the most demanding part of the process is redesigning the pipelines. However, keep in mind a few costs about rough-in plumbing that is combined with a moving bathroom.
Relocating dryers, washers, or other large appliances, as well as toilets or showers
Transferring a plumbing stack
Adding or transferring lines that are in concrete slabs
Transferring plumbing from one to another wall
The Cost Of Moving the Appliances
Making the layout of fixtures and appliances in the bathroom more efficient for everyday use is not uncommon for homeowners to decide to change. When it comes to changing the location of the washer in the bathroom, you must know that it is necessary to change the plumbing line for this task. However, this is not a small expense, and it ranges between $170 and $500. Note that plumbers can't do that job for you because they don't have a license.
If you want to change the position of your toilet, it is important to know that this project also includes the installation of new waste and water lines. It is a job for which the cost is estimated at between $200 and $400, where the installation of the toilet itself is charged extra. To install each sink, it is necessary to prepare three new lines, and the cost of such work is between $540 and $6,400.
The Cost of Moving a Plumbing Stack
This is how the venting of the plumbing system is ensured. For example, a low-flow toilet for a vent uses a special line that creates the vacuum pressure that is necessary for flushing. To move a plumbing stack you have to count on a cost that averages from $270 to $480. But the cost can be even higher if your home has a stacked roof.
The Cost of Adding Tub-to-Shower Conversion
Tub-to-shower transformation is popular change when homeowners decide on when decorating a bathroom. The cost you can expect for this job is approximately equal to the cost of adding a new shower. However, if you decide to change the tube's location and install a new shower, you can expect an additional cost ranging between $100 and $500.
Cost to Rough-In Plumbing Materials
Pipe type you will use when rough-in plumbing in the bathroom greatly determines the project's total cost. Plumbers usually use copper or PEX pipes for this job. You should also know that if your house is old, it will be necessary to first remove the old pipes below ground level for safety.
1. Lead Pipe & Polybutylene Replacement
Depending on the number of bathrooms in your house, you should pay between $2,500 and $15,000 for the total replacement of the lead pipe or polybutylene pipe system.
Polybutylene pipes are very fragile and quite outdated. They pose a major risk to the security of your home and need replacement as soon as you are given the opportunity to do so. Until that moment comes, you are obliged to replace the lead pipes within the system according to EPA standards.
2. Galvanized Pipes
If your house is older, you may have galvanized pipes in the plumbing system. Their disadvantage is that they are easily clogged and tend to rust. A plumber usually advises the homeowners to change galvanized pipes that are visible in the upper parts of the system.
3. Copper Pipes
Copper pipes are most often used today for home plumbing systems. If you want to install copper pipes, the cost ranges between $5,000 and $20,000, and the basis for accurate calculation is $2 to % 5 per foot. Given the test results conducted in the last few decades, copper pipes have proven to be the best choice. Their disadvantage is that they can burst suddenly when they freeze due to low temperatures.
4. PEX Pipes
The roughing-in PEX pipes inside the house will cost you between $2,000 and $5,000 (this is less than using standard copper pipes). The advantage of PEX pipes is that they are also more flexible than copper pipes, cannot crack suddenly due to weather conditions, and do not leak.
PEX pipes are also considered more energy efficient because they retain a higher degree of heat due to the material structure from which they are made. The disadvantage of PEX pipes is that they have a shorter lifespan since they are made of plastic.
A good PEX pipe alternative is often CPVC pipes, whose per foot price ranges between $0.50 and $ 1. They are a bit stiffer than PEX pipes, but they are more durable. It should be noted that the quality of CPVC varies greatly depending on the manufacturer.
DIY Rough-In Plumbing
If you are a skilled DIY homeowner, feel free to do rough-in plumbing by yourself since this is the final step in this whole process.
The Wastewater System
The most important part of the plumping system job that you need to do first is laying out wastewater pipes. Logically, its simpler to install fewer pipes on one main pipe than to do the opposite. Don't forget to provide a venting system for pipes which is usually a separate pipe with an outlet on the roof of the house. You must also provide one U-shaped pipe for each fixture that has to be filled with water.
Water Supply Pipes
The second step is that the pipes need to be layout for the water supply. If the job does not require the removal of old pipes without hesitating, you can do it yourself. We recommend that you choose between PVC and copper pipes. However, if you have a different situation, you will need to hire an expert.
Complete Guide to Rough-In Plumbing
If you are just starting the rough-in plumbing project, we suggest you follow these guide:
Step 1: Mark Your Locations
The first step is to mark out locations on which you want the sink, toilet, bathtub, and vanity to be. Use blue tape for flanges and corners, after you trace it beside the line of the fixture bottom.
Step 2: Cut the Drain Hole
Cut out the section that is marked. Now make sure to screw the bottom of the fixture firmly into the floor.
Step 3: Drain Pipe Installation
You should expect no problem when placing pipes beneath the floor level since you have only sub-floors during the rough-in project phase. With suitable fittings, direct the drain towards the waste stack. Note that this step is the most complicated in the process.
Step 4: Supply Line Installation
Lastly, you have to run through supply line. The line should go through either a floor line or a wall. Attach it to the fixture by using a "T" fitting when you are done. Remember, DIY projects must be cleared by a licenced inspector when it comes to plumbing. So if you aren't fully confident to do it right, it is best for this job to hire a plumber with a license.
How to Hire the Right Plumber?
There are ways you can cut down the plumbing costs when hiring a professional to do this job. You do not have to give up quality to save on labor, and here is how to do it:
Do the shopping. It is known that emergency jobs are costlier because they do not leave you time to 'go buy things. But when you already know a good plumber, it is easier, even in cases of emergency, to get a reasonable labor price.
Put everything on the paper. Be sure to have estimate rules digitally signed or in the form of a hard copy. Never rely just on verbal promises.
Use Regular working hours. Work done on weekends, holidays and after-hours almost always comes with an extra charge.
First-hour fees. It is common for companies to charge a client a higher rate for the first hour as an expense for getting there. You should know that when hiring someone for a big project they could charge you a transportation fee.
Ask for a plumber license. A very few who says that have a license actually has it. Do not hesitate to ask a solid proof. Do not sign any contract if a plumber is fiddling with license matters. Also, it is good to ask upfront about warranty policies.
Consolidate all house plumbing jobs. When you have a plumber coming your way, round up all your plumbing jobs. This will give you more room for negotiating a "bundle discount." If any other problem occurs, like your garden faucet begins to drip while the plumber is doing his job in the bathroom, you should report it.
Also, you might be interested in this Does a Bathroom Need a Window? Explained
Final Thoughts
The bottom line is that you must not leave anything to chance. It is always a much better option to ask a few more questions than to face serious problems that later may arise due to a job poorly done for which there is no guarantee. I hope that this article has helped you and for any additional questions, feel free to comment below.