Ceiling Vibrator: A Gadget For Noisy Neighbors
Have you ever dealt with neighbors who seem to think they live in a dance studio instead of an apartment above yours? If so, then you'll understand how annoying this can be. With house ownership seeming more like a distant dream, particularly due to the high prices, many of us are renting apartments.
For those who didn't know, almost a quarter of New York's residents (according to Statista website) are apartment dwellers. This style of living can feel like a wild rollercoaster ride. You could be enjoying the peace and quiet one minute, and the next minute feels like you're in the middle of a rock concert. However, if you have a ceiling vibrator you can change the rules of the game. Here's how:
What Is An Ceiling Vibrator? A ceiling vibrator is a device designed to combat excessive noise from upstairs neighbors. It sends vibrations to the floor above, serving as a non-confrontational alert to the noise issue. This gadget, adjustable in height and intensity, is installed against the ceiling and controlled remotely.
In this article, I'll walk you through how to use this great device to bring some much-needed quiet back into your living space.
Understanding the Ceiling Vibrator
Originating from China, the ceiling vibrator is a unique gadget designed to tackle noise pollution from upstairs neighbors. This great device also referred to as a sound neutralizer, noise dampener, or noise eraser, sends vibrations or rhythmic thumps upstairs to signal to your neighbors about their disruptive noise levels.
If the loud noise continues, the device allows you to level up the vibration or pulsation speed, effectively giving your noisy neighbors a taste of their own medicine.
You affix the gadget to the ceiling, activate it, and then it emits vibrations noticeable to those residing above. The device even comes equipped with various pre-set programs for you to choose from.
How Does Ceiling Vibrator Work?
The technology of how ceiling vibrator works is pretty simple. This device comes with an extendable rod that can be adjusted to fit between the ceiling and the floor, accommodating various ceiling heights.
At the end of the rod, a box or cylindrical unit housing the vibrating motor is firmly positioned on the ceiling. A long power cord that is coming from that device allows it to be connected to the closest electrical outlet.
These gadgets generally come equipped with a wireless controller (or even by use of the smartphone app) that lets you activate them when noise from above becomes an issue. There are a few types of this device.
As technology advances, multiple variations of this device have become available:
Beat thumpers: These create a rhythmic pounding against the ceiling.
Shock vibrators: These deliver vibrations instead.
Shock and beat combo units: These offer the best of both worlds.
Most versions include various vibration and speed mode settings on the remote control. Be sure to familiarize yourself with the user manual before enjoying the peace and quiet the device can bring.
Related Article: 14 Ways to Annoy Noisy Upstairs Neighbors Legally
How Does Ceiling Vibrator Impact Its Surroundings?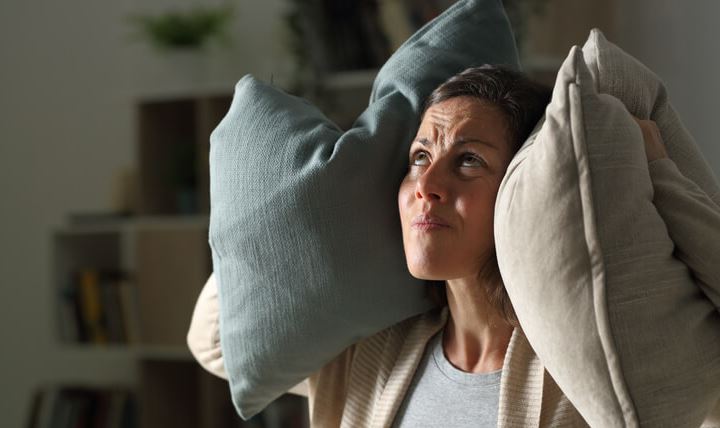 Why does the ceiling vibrator outperform other methods you might have tried to silence your noisy upstairs neighbors? The answer lies in the potency of the device's motor, which generates vibrations far stronger than any human can manually produce.
Here is an example: Ceilings are constructed to withstand various types of movement from the floor above, including walking, running, and jumping. However, they can't entirely block impact noises such as footsteps. This is precisely the weakness that the ceiling vibrator targets!
The device sends vibrations into the ceiling joists, which then go to the floor above. Unless the floor is exceptionally thick, the vibrations might cause some slight tremors in the neighbors' belongings. But don't worry, it won't feel like an earthquake.
At most, it could cause small, lightweight items on nearby furniture to shift slightly. But the device's main purpose is not to cause a ruckus, but rather to send a strong, vibrating message to your neighbors about their noise levels.
Related Article: Are Landlords Responsible For Soundproofing?
Steps to Set Up a Ceiling Vibrator
Here are 5 steps on how to set your ceiling vibrator:
Begin by connecting the wire end of the power adapter to the matching connector on the device. After you're done, plug the adapter into an electrical socket and test the gadget's functionality.
Once you've tested that device is operational, insert the labeled rod into the device. This rod should be segmented into four parts.
With the rod segments connected, introduce the threaded rod's base into the lowest section. Consider placing a towel or similar material on the device's top to protect your ceiling.
Position the device upright at the desired location and adjust the height according to your ceiling height by tightening the knob on the threaded rod. If the rod extends too high, just remove 1 to 3 segments.
If the rod is too short, consider elevating the device's base with books or a small stool.
Note! For the initial installation, having something to help to hold the pole can be beneficial. Avoid placing the screw base on soft surfaces like a sofa as this could cause the device to topple over.
Remember that if you have a shorter pole, the more stable it will be. Using a solid base like a small table can help reduce any impact on your home and the unit below. After installation, examine the device and pole. If there's any wobbling, it indicates an improper setup.
Ceiling Vibrator's Remote Control Features
The remote control for this device includes buttons marked as gear +/- to modify the rate of vibration or thumping. There are 9 levels of intensity (from F1-F9) you can cycle through, each corresponding to a different vibration or beat mode:
F1: This is the base mode. It initiates shaking or knocking and automatically turns off after 15 min.
F2: Activates vibration or tapping every 10 sec, pauses for around 10 sec and automatically turns off after 30 minutes.
F3: Shakes or beats every 30 sec, halts for 30 sec, and automatically turns off after an hour.
F4: Activates vibration every 1 minute, pauses for 1 minute, and automatically powers off after 2 hours.
F5: Triggers shaking or beating every 2 min, pauses for 2 min, and automatically powers off after 4 hours.
F6: Vibrates or beats every 5 min, stops for 5 minutes, and automatically powers off after 6 h.
F7: Triggers vibration every 10 min, halts for 10 min and automatically turns off after 12 h.
F8: Shakes or beats every 20 min, pauses for 20 min, and automatically powers off after 24 hours.
F9: Activates shaking or beating every 30 min and pauses for 30 min with a shutdown time of 1-4 hours.
To set a timer, first select the desired mode, tap the button where it says vibration to start, then use the timer button to schedule the device to run between 1 to 8 hours before automatically shutting off. After connecting the device to power, press the power button to switch it on, followed by a vibration button to initiate the device's operation.
Here you can see a test of how this device works:
Screen Indicators of the Ceiling Vibrator
Here are the basic indicators of the ceiling vibrator:
The 'P' symbol represents intensity level.
'E' signifies the timer setting.
'L' indicates tapping mode (this is not applicable to machines without a tapping feature).
'U' is an indicator of vibration mode.
'H' corresponds to the hybrid mode (a combination of vibration and tapping).
Final Thoughts
If you're living in an apartment and having trouble with loud noise from your upstairs neighbors, the ceiling vibrator might be the perfect solution for you. This device allows you to gently remind your neighbors about noise levels without causing any damage to your building's structure.
Thus, you can utilize this gadget without worrying about any potential issues with your property manager. If peace and quiet is what you seek, then the ceiling vibrator could be the reliable friend you need.