Can Drop Ceiling Be Used In A Bathroom?
A drop ceiling (that is also called a suspended ceiling) is usually placed in bathrooms to hide heating ductwork, unsightly pipes, building infrastructure, or anything else that spoils the aesthetics of the room. Installing this ceiling will also be a great choice when it comes to soundproofing and fine displaying of light fixtures in the bathroom. However, due to problems with humidity, many people are concerned about whether a drop ceiling is a good option for a bathroom. In this article, we'll talk about drop ceilings in the bathroom and much more. So, let's start!
So Can Drop Ceiling Be Used In A Bathroom? When building or remodeling a bathroom, a dropped ceiling is OK to have, but it is necessary to pay attention to moisture that can damage the ceiling. Therefore, moisture-resistant ceiling materials must be used during installation. As the code prescribed, the bathroom ceiling must not be lower than 6'8 ".
Therefore, when placing a drop ceiling in the bathroom, it is necessary to pay attention to the humidity and the minimum regulation codes on how much the ceiling can be lowered. Below I give you the guide on the necessary requirements that must be used during installation, recommended materials, and how to do the installation.
If you want to upgrade your bathroom, be sure to read How to Install Motion Sensor Light in a Bathroom?
Suspended Ceiling Systems
Suspended ceilings are also known as drop ceilings. The reason is that the height of the finished ceiling is below the height of the bottom floor joists (suspended ceiling features come with a metal grid that supports individual tiles). Standard tiles that are used for suspended ceilings can be bought in 2×2 foot and 2×4 foot sizes.
Some of them are manufactured of light acoustical materials that are soundproof to lessen the sound between the main floor and the basement. You can find tiles made from vinyl, plastic, aluminum, polystyrene, wood fiberboard, and mineral fibers (for example, perlite). For a bathroom, the best choices are vinyl or polystyrene tiles and waterproof plastic. They are resistant to mildew and mold.
> Get Drop Ceiling Bathroom Tiles HERE <
Necessary Requirements For Bathroom Drop Ceiling
The International Residential Code (IRC) doesn't say anything about requirements for a bathroom drop ceiling. But it does point out the regulations that need to be followed before dropped ceiling installation:
There should be a minimum height for a bathroom ceiling
The bathroom ceiling must be protected against moisture
If you plan to install a drop ceiling in the bathroom, be sure to check local rules and codes with local authorities in your area. Local codes have to be used in line with the IRC, but you should also know that all local regulations and codes supersede the IRC.
What Is The Minimum Height For Bathroom Ceiling?
The minimum height is prescribed by R305.1 of IRC. However, this rule applies to a dropped or standard ceiling. Here is the statement:
"Bathrooms, laundry rooms, and toilet rooms usually need to have a ceiling that has a height below 6 feet 8 inches (which is around 203 cm)."
However, there are some exceptions to these rules:
For rooms that have sloped ceilings, the floor room area usually has a height of 5 feet (1524 mm), but 51% of the floor area must have a height of 7 feet (2134 mm).
Fixtures for the toilet and bathroom must have the proper ceiling height for these fixtures to be used as intended. It applies the min. height of the ceiling, for example, around the showerhead, is approximately 6'8″ regarding the area of 30″ by 30″ in the upper part of the fixture.
Keep in mind that when you have a shower pan that is elevated and makes draining your shower through the basement floor drain easier, it will also make the ceiling height reduced in that area. To adjust the added shower pan height, bulkheads can be used instead of fully dropped ceilings.
How To Protect the Bath Ceiling Against Moisture?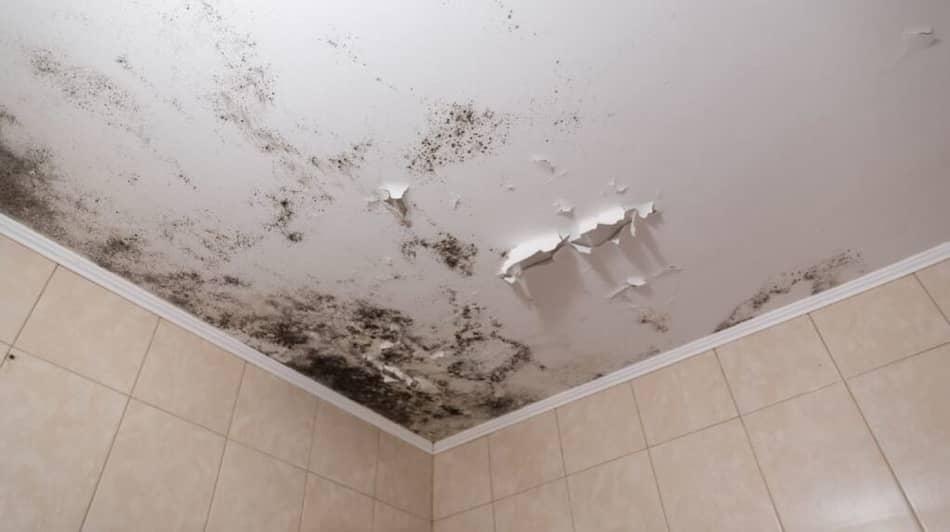 Rooms like bathrooms are very humid spaces, especially when there is a bathtub or shower in it. If you use the bathroom often, mold-resistant and moisture-resistant paint and materials are recommended. Dampness and water vapor need to eliminate to prevent water damage in the long run.
Choose the Right Material
When it comes to dropping ceilings, they are usually held by a metal grid. This type of grid layout allows you to hide anything above the ceiling, and at the same time, you have access to it.
Things to consider when opting for materials for dropped ceilings:
The tile's weight – they have to be easily removable.
The material and style should blend into your bathroom interior decoration.
The ceiling material must be waterproof, durable, and mold resistant.
Right budget – it is an important factor in the purchasing costs of the needed materials, and maintenance or repairs in the future.
Before buying any materials for your ceiling, make sure to do your research. There are few materials (for example Fiberboard) that can cause staining and water damage. You should not use them in a humid, moist environment.
Take a look below for the materials that we recommend. Here we'll present you with some of the options for every budget:
1. Cement Board
A Cement board is a very good and cheap backer material that is often used behind tiles in humid areas. A cement board is a combination of cement and glass fibers that provides a firm base for tiles installation, including tiles for ceilings. The cement board does not contain organic matter, will not shrink or warp, and is mold resistant. All this makes it the perfect backing base for tiling as a sub-surface in humid and moist areas.
If you will use DIY installation and your choice is the cement board, keep in mind that this task will require a cutting tool. A good option for this job is the PacTool Snapper Shear. It is an extra layer that can fit on any drill.
2. Drywall
A drywall is a good, inexpensive, and moisture-resistant material for the bathroom ceiling that is available in many different textures. After you install it, you can simply paint it over with paint that is water-resistant to match the interior decoration of the room.
When you use good paint, you will save money in the long run. The green board becomes a durable, inexpensive, and firm ceiling material with high-quality paint, even in spaces like bathrooms. The texture of the green board is great for hiding cuts and is light enough to cover damaged, old ceilings at low costs. The texture of the green board is also good when it comes to soundproofing.
> Get Drywall HERE on Amazon <
3. Fiberglass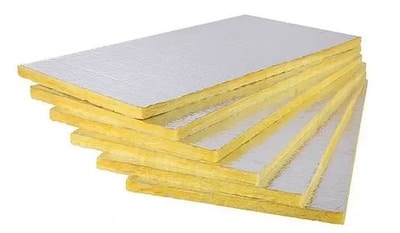 Fiberglass ceiling tiles are very easy to install. They just need to be pressed into the right spots. Fiberglass is maintenance-free, and durable, and protects the bathroom from water damage in the long run.
It is also considered the most used material in bathrooms across the USA. The reason is simple: they look good and they are not expensive! Fiberglass tiles can be bought separately, making them perfect for DIY installation. Additionally, fiberglass has good insulating qualities, so it effectively absorbs sounds. It means a green light for singing in the shower, whatever you like! Definitely a big plus for a bathroom!
4. PVC
Materials made of plastic are very versatile and offer a big range of designs and styles. On the market, there are many pre-finished plastic or PVC tiles in almost every color made to match wood, metals, mirrors, murals, or stains.
These types of materials are nonporous, entirely waterproof, and don't absorb moisture. That is why they are very popular. They are also resistant to mold and mildew and will not discolor or sag from the humidity and moisture in the bathroom.
> Get PVC Tiles HERE on Amazon <
5. Metal (Aluminium, Copper)
Molded or stamping metal materials are water, fire, and mold resistant. Because of that, they are a great choice for bathroom ceilings. However, metal tiles have a downside. They are echoing and therefore are making your bathroom very noisy! If you use metal tiles, you should paint them to make them quieter and more suitable for a bathroom.
The positive side is that metal tiles can be bought embossed or in sheets for bathroom ceilings. It means that they can be quickly installed and removed when you need to repair damages on the roof.
A large USA suppliers of appropriate materials for bathroom drop ceilings is Armstrong Ceilings.  Their website can be the first stop when buying the best bathroom ceiling tiles.
Can You Paint Your Bathroom Ceiling?
If you want to paint your bathroom ceiling and have a modern look, it will not be an expensive task, and it is a very convenient option that can change the whole appearance of the space. Also, it is an easy job, so you can do it even annually to freshen up the bathroom!
When buying the right paint for the ceiling in the bathroom, you should keep in mind condensation and water vapor that can lead to mildew and mold, peeling paint, or bubbling. Therefore, be sure that your bathroom has quality ventilation or a window.
Here are the recommended paints that can be used for the bathroom:
Semi-gloss paint is moisture-resistant, and tough and will stop the mildew and mold when the bathroom is more humid.
Satin paint is also mildew and moisture resistant which makes it a good choice for bathrooms with lower humidity.
Here are a few tips on how to paint the ceiling in your bathroom:
Do not ever paint over mildew! Any existing mildew should be scrubbed from the top before painting.
In a corner, on seams, and around ceiling-wall edges, you should install a protective waterproof membrane.
Get a Qaulity Bathroom Fan
If the humidity in the bathroom is too high, it can damage the ceiling structure. To protect your bathroom, you can install a good fan to vent the air. When you build a fan in the dropped ceiling bathroom, you must choose the right blocking. It goes above the tiles of the ceiling to lower the fan height to the ceiling height.
It is important to choose the right fan when it comes to the capacity of the bathroom. Keep in mind that a big and strong fan may exhaust the air faster, but will cost you much more in the long run.
Additionally, from the fan to the home's exterior, it is recommended to install vent ducting. This will remove humid air away from the bathroom. For venting, having a bathroom fan is a must. But, it can be a hassle to switch it on and off all the time.
> Get Bathroom Fan HERE on Amazon <
Installation Process of Bathroom Drop Ceiling
For those who love DIY projects and want to add this type of ceiling to the bathroom, you can do it with the right tools, equipment, and planning. Before you embark on this journey do the following:
Protect yourself – Use the recommended PPE gear, goggles, gloves, and a stable ladder.
Tools – find the right tools to get the job done. Before you start, prepare all the tools. Accidents can happen while grabbing the tools if they are not accessible.
Prepare yourself – check all the directions for the main beams and joists before you start. You must know what you are doing in a position to carry the extra weight when it comes to the ceiling frame.
Make a detailed plan – it is a crucial step! You should make the right floor layout so that you know which tile goes where.
If you want to learn more about this, be sure to watch the video below to get how this should be done.
Final Thoughts
Now that you have seen what is important for a drop ceiling installation in the bathroom, you need to think carefully about what material you will use and whether you have ventilation in your bathroom so that the mold does not accumulate. I hope we have helped you with this article to understand what is really important during this installation. If you have additional questions, feel free to contact us.