6 Best Soundproof Floor Mats – Expert Explain
We have all experienced a situation in our home where when we step on one particular floor area, we hear an unpleasant and loud sound. At a younger age, I also had such an experience in my parents' house. It's not the most comfortable situation because your household members immediately notice where you are without saying anything.
When it comes to soundproofing your home floor to avoid uncomfortable situations in front of your guests, get acquainted with soundproof mats that will surely effectively reduce noise levels where you live. In this article, we'll talk about the best ways how you can soundproof your home with floor mats and much more. So, let's start!
What is a Soundproof Floor Mat?
A soundproof floor mat is a mat that absorbs sound and is placed directly on the floor, under a carpet or rug. Sound-absorbing mat is essentially an additional layer of material placed as a barrier between the noise source and the building's structure, which then reduces noise propagation. Because of how soundproof mats are made and set up, you will quickly realize how much more effective they are when it comes to dampening impact noises compared to airborne noises. Why is that? Let's look together in the text below.
Difference Between Impact vs. Airborne Noise
Every home has two types of noise: airborne noise and impact noise. Airborne noise occurs when sound travels through the air from the source. Impact noise occurs when some object comes into contact with a surface. Like the sound of an object hitting the floor or footsteps. 
When sound waves come in contact with a surface, they are usually blocked to a certain degree, depending on the thickness and heaviness of the wall. That is why a soundproofing mat is more effective against impact sounds. It represents a material layer between the surface (the floor) and the object (the foot). This material is designed to be soft. That's because sound waves lose energy when traveling in that type of environment. Simply said, the sound becomes dampened.
For those who want to learn more, be sure to read Top 7 Best Soundproof Insulation Materials.
6 Best Soundproof Floor Mats For Home
Soundproof mats are a great thing to have. Homeowners buy them for various reasons, such as exercise, putting them under household appliances (like washing machines), or for kids' rooms. Their big advantage is that they are easy to move from one location to another. With all of this, we'll cover the six best soundproof floor mats that you can buy for your home. Let's start!
| Best Soundproof Floor Mats | Soundproof Efficiency: | Installation Cost: |
| --- | --- | --- |
| 1. Dual Surface Rug Pad From Mohawk | 7/10 | Low cost |
| 2. EVA Foam Tiles From BalanceFoam | 8/10 | Middle cost |
| 3. Rubber Rug Pad and Gorilla Grip Felt | 8/10 | Low cost |
| 4. Rubber King All-Purpose Fitness Mat | 6/10 | Low cost |
| 5. Non-Slip Rug Pad | 7/10 | Middle cost |
| 6. Grizzly Grip Rug Pad | 7/10 | Low cost |
Soundproof Floor Mats for any home
1. Dual Surface Rug Pad From Mohawk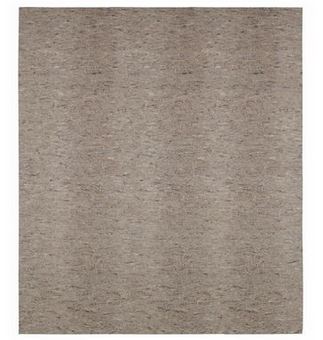 >> Buy Dual Surface Rug Pad HERE <<
Mohawk has been manufacturing carpets and rugs for many years, and that is why they produce good soundproofing floor mats so effectively. The dimensions of this mat are 8×10, while its thickness is ¼-inch. Because of that, the dimensions you'll require are at least a minimum of 8×10. The rubber back allows the mat always be in place, and that way, it fully absorbs the sound. Fiber side has a rough surface, and it will, with no problem, grip the covering or a rug that you place on the mat.
2. EVA Foam Tiles From BalanceFoam
EVA Foam is a quality option of foam because it is at the same time soft and very strong. These tiles will do an excellent job when comes to reducing the noise that is coming from the home gym. However, they don't look so good. It is the kind of tiles used for top flooring in professional gyms. The measures for these tiles are 24" x 24", while the packs can be bought in many different sizes and thickness options. When we talk about the thickness, it ranges from ½" to 1".
3. Rubber Rug Pad and Gorilla Grip Felt
Also, another quality brand on our list is Gorilla Grip Felt which is designed for hard floors. This mat has incredible quality. It is very stylish looking, durable, and thick, which makes it an excellent choice for reducing echoes and sounds and floor protection.
It has a texted rubber on the surface, which allows better stability and grip during the installation process. It can be found in many different sizes, allowing you to find an adequate fit for every floor situation. If it does not fit as you imagine, you can easily trim it down with scissors. This Rubber rug pad is easy to vacuum and clean, so you do not have to clean it regularly.
4. Rubber King All-Purpose Fitness Mat
>> Buy Rubber King Fitness Mat HERE <<
This model is not explicitly designed for soundproofing, but it can be used to soundproof your floor, just like EVA foam tiles. This fitness mat is very similar to soundproofing mats found in cars.
It has a thickness of only 3/16", while the material from which it is made is dense rubber. This model is the thinnest on this list. But regardless, it will do a great job when it comes to dampening impact noises. It can be found in four different sizes on the market, where the biggest one is 4' x 6'. Therefore, you shouldn't have a problem finding a size that suits your need.
It doesn't have a great look, so you will probably have to hide it under a carpet or a rug. A good feature of this mat is that the rubber is not vulcanized. That means it does not spread smells or VOCs, making it safe to use in households with children and pets.
5. Non-Slip Rug Pad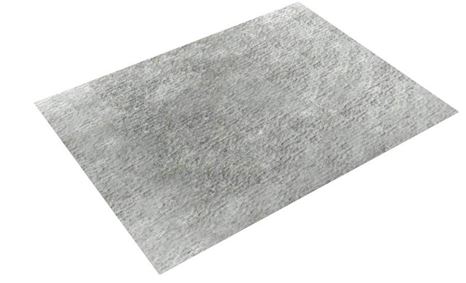 >> Buy Non-Slip Rug Pad HERE <<
Non-Slip mat can be found in a couple of combinations. The Rug Pad brand is manufactured in the USA. It also gives you the option to choose between felt-only or a combination of felt and rubber. The thinner mats are made from both felt and rubber, while the thicker mats are felt only. Both of them have their benefits. The choice depends only on your personal preferences and needs.
The felt-only mat model is a bit more cushioned, and it is recommended when your furniture will be able to help anchor the rug in place. Because of that, the felt and rubber floor mat is a bit firmer. That's made it good to use when the rug is placed in an area where people often walk. That's because the felt and rubber combination will keep it firmly in place.
6. Grizzly Grip Rug Pad
iCustomRug model has a thickness of ¼-inches, and comes with double-sided recycled fibers and rubber. The bottom of this rug is designed of rubber which gives it a great grip for sticking to the flooring surface of hardwood. The top material has quality recycled fibers that ensure the rug sticks thigh with the cover rug. You can find around 75 custom sizes that you can choose from!
Things to Look For When Buying a Soundproof Floor Mats
Thickness & Weight
When buying a sound-absorbing floor mat for your home, it is important to look for the thick mat you need. That is the key to determining the soundproofing level of the mat. Every soundproof floor mat has dimensions and specifications on it. Therefore, make sure to see the thickness of the product to be sure that it fits your needs. Also, you need to know that you get additional sound absorption with a denser and heavier mat.
Size
Some people overlook the size when it comes to buying, so I have to enhance the importance of measuring the mat area before you hit the stores. It is essential to know what mat size you need because otherwise, you can end up buying too small matt that cannot cover all the floor or mat that is too big (although some models can be cut).
Price
You have to pay a close look at the mat's price. It often happens that products in this category are overpriced. A good chance is that you can buy less expensive matt of a different brand but of the same quality. That will, of course, save you a bundle of money.
Material Used
This is an essential criterion when purchasing a soundproofing mat. Some materials simply do not have sound-absorbing features. Be sure you check what material is used for the mat before buying it.
Is It Washable
Although mats usually do not get dirty easily and fast, sooner or later, you will need to clean and wash them. You have to be sure that washing won't ruin the mat because it is a possibility when it comes to some models. 
Additional Way to Soundproof the Floor
After adding floor mats that are soundproof and covering them with a rug or carpet, it is good to place some furniture over them to improve the floor's sound absorption. This way, you will get an extra soundproofing layer. When you do all this, you will significantly improve the soundproofing in your home.
Here is a great YouTube video that additionally explains a few more ways how you can soundproof your floor.
If your bedroom needs sound insulation, then check How To Soundproof A Bedroom In 8 Steps.
Final Thoughts
When searching for the right floor mats, the most important thing to look for is the thickness of the mat and the material from which the mat is made of. The floor mat thickness is also important to consider.
The highest quality mats, with which you will achieve the highest level of soundproofing, have rubber on the lower part and fabric or felt on the upper part. With the help of a rubber matt, it will remain well attached to the hardwood floor, and fabric or felt will ensure that the matt is well simmered from the rug or carpet that you place on top of it.
You know that you should soundproof the floors in your house if you are constantly hearing squeaking, creaking, and popping from the joists of the floor. You should also know that those sounds will not go away completely by installing soundproof mats on the floor, but they will surely be less loud and annoying.
For better soundproofing, it is good to try to place the furniture on the spot where the sounds are coming from. The combination of good floor mats for soundproofing and careful arrangement of furniture together can do wonders and significantly reduce that awful noise that bothers you. Tip – If you want to surprise children, let floor soundproofing remain your secret!